This is a picture of some of my ships on an excersise!!!


Vader supports our Anti Jar Jar aims!!!





On this site you will have the opportunity to join my army oppose my army or support me. Also I will give detailed descriptions of what I like best in Star Wars.
On this home page I will give a few pics of my army in action and Jar Jar suffering!!!

Please sign my guestbook near the top if you share my enthusiasm or enjoy my site!









Unknown Gem Type: tlx.tlxinv.guestbook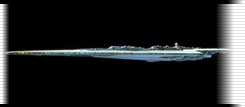 This is the Super Star Destroyer Iron Bull. It was the flagship of Warlord Dejana, but is now the command ship for the second Imperial fleet which is made up soley of Dejanas forces